Christina actually prepared for SoundCamp. To reward her diligence, we reproduce her notes in full below. Apologies for some glitches in formatting transferring her notes over to WordPress…
A few lessons learned, and how to get help with audio
Christina Hendricks
Soundcamp at TRU, Aug. 15, 2013
Some general tips/lessons learned on recording
Recording voice
One thing that is important to keep in mind when recording audio is that where you are when you record can make a big difference. For example, if you're sitting in a small room, especially with relatively bare walls, it can easily sound like you're in a cave when you record your voice. And certain parts of buildings or homes may have pretty loud ambient noise that you might not notice until you start recording (such as refrigerators, ventilation systems, and more). You'll just need to experiment with different places inside or outside. It's fine to record outside and get ambient noise there, as it's much more interesting than refrigerator noise!
Another thing to consider is your microphone. If you just use the built-in mic on your computer without anything plugged into it, you're going to get a lot of ambient noise (which may be okay, depending on where you are). I have found that a simple pair of earbuds with a mic attached works pretty well, and cuts down on that ambient noise (though it's still there).
Noise removal: I get a lot of weird spit noises when I record sometimes. You can delete these directly if they're before your words. You can also reduce noise generally by using Effect -> Noise Removal. See instructions here: http://manual.audacityteam.org/man/Noise_Removal Note, though, that this means you need to have a few seconds of just the noise you want to remove in order for it to work!
Covering over not-so-great audio: Sometimes your audio quality just isn't great, and noise removal won't do it. And/or, you're combining two different voice recordings into a conversation (say, two people are in a conversation but talking in different locations, so they have different sound quality and noise). And/or you've cut out some audio and the transition doesn't sound as good as you'd like.
A trick Scottlo and Rochelle Lockridge taught me: add in some ambient noise or music to cover this over. I added in sounds of birds in a park to a podcast I did.
Recording ambient noise
I have used just my phone with its built-in mic and a mobile recording app for things like the ocean, birds, street sounds. Quality isn't fantastic, but if it's just for ambient noise in the background, then volume won't be loud and you won't notice.
Some mobile recording apps:
·             Soundcloud app (free; search on your favourite app store): allows you to record and then upload directly to Soundcloud (which is a fine place to post your audio when it's done–you get a fair bit of time for a free account)
·             iTalk app (free and paid versions): I think this one is only available on iOS devices. Allows you to choose between different quality recordings, and allows emailing files from the app. Paid version integrated with Dropbox, I believe.
·             Recordium (website suggests free, but my iTunes says 99cents): also only for iOS, this one allows you to annotate recordings, and you can grab your recordings from the web with wifi sync to an IP address that has just your recordings.
·             Smart Voice Recorder (free): for Android only. I know nothing about this one, as I don't have an Android device. But it has good reviews.
·             Audioboo (free): Works on many platforms. Don't know much about this one—both a recorder and a site to upload sounds to (like Soundcloud, I guess). But you get very little time with a free account to the site. I think you can use the app to record sounds that you could upload elsewhere.
Some general tips/lessons learned on editing and saving/exporting in Audacity
Saving Audacity files—always keep two parts to these together
When you save your project in Audacity (which you should, of course, do VERY often), it actually outputs two things: an .aup file and a data folder. Here's a tip I got from Scottlo: You must keep these two things in the same folder on your computer. If you move the .aup file to some other folder than the data folder, then if you try to open your .aup file it won't work because it won't be able to find the data folder. So if you decide to move your project around on your computer, be sure to move both those things for each project.
Exporting as mp3 in Audacity
If you want to save your audio file as mp3 (which is a compressed file, not quite as big as some other kinds of files like wav or aiff…though those do have better quality but are larger files), then you'll need to install the LAME mp3 encoder, which is explained starting at this section of this video: http://youtu.be/U5PMOis9K7M?t=1m  See instructions for downloading on various platforms, here: http://manual.audacityteam.org/o/man/faq_installation_and_plug_ins.html#lame
– It's a good idea to save as mp3 for voice audio, since the files are smaller and take less time to load for those listening, as well as take less space on computers if you allow people to download them. The audio quality of mp3s is just fine for voice.
– However, I did have a problem saving a voice file as mp3 once; the recording sounded all distorted and strange. A friend helped me out: it helps to set one of the options in the Export as MP3 dialogue. Set it to192 kbps, he said, and it should sound better.
Keeping copies of tracks in Audacity
When I do a voice recording, I'll often do several versions. You could do them all on one track or on several different tracks (several different recordings). Either way, I always keep copies of all the versions in my Audacity files until I'm happy with the whole project. You might think you liked one, but then later decided the other one had something better, and then, well, if you've deleted it it's gone. You can just keep the tracks at the bottom of the window and mute them until you're done with the project (I even keep them there after the project is finished, just in case I want to go back and edit it later!).
Also, when I download a sound and copy/paste just part of it into my project, I keep the whole downloaded file on a separate track. Again, so I can copy/paste that part again slightly differently, or use a different part, etc. In the radio show I helped write/record/edit, I used some sound effects several times (keyboard typing, walking across a floor, chair squeaking), and I kept the original sound tracks on the bottom of the project window so I could copy/paste from them more than once, and use different parts of them in different sections of the audio.
Putting sounds together in one track vs. keeping them on separate tracks
In Audacity you can have many tracks playing at the same time, with different sounds on each one, coming in at different times (not sure if there's a maximum number of tracks!). When you play it back, you can't tell if they're on different tracks or all together in one. So the output is the same, so far as I know.
You would want to have them on separate tracks if several are overlapping, of course, because that's the only way to get more than one sound at a particular time in the timeline.
But if you have several sounds on different tracks and they are not overlapping, you could move them all into the same track with cut/paste if you want. I would do that only after making sure the sounds are in the order you want, with the timing you want, for the finalized project. Because when they're on different tracks they're much easier to see as different sounds, easier to move, etc. When they're on the same track it can be hard to tell where one sound ends and another begins, and it's just more work to find/move them.
But really, so far as I know it doesn't matter either way.
You can label tracks to make them easier to navigate
You can give each track a name by clicking on the down arrow that is next to the "popping co" in the image below. I named this track "popping corn full file," but you can only see a part of that name.
You can also put labels on parts of a track so you can keep track of which parts of a track have which sounds/words/etc. Select where you want the label to go, and go to Tracks ->Add label at selection. What you'll get is a small track below the sound track, which is a label track. Then you can type words to explain what's there. This works fine until you've got lots and lots of labels, and then they start to get a bit jumbled up unless you zoom in on the track.
You can put tracks into different "sides" of a stereo project
Unless you're using only a voice recording done in mono, your project will likely be stereo (stereo tracks have two waveforms, one for left and one for right). You can take entire tracks and move them more to the left or to the right, if you want. We did this for a group radio show because we wanted one voice to be in the left and the other in the right.
Just go to the control panel at the left of the track, and move the slider that is marked "L-R" (see, e.g., in the screenshot above) to move that track more to the left or to the right in the final recording. The default is in the middle.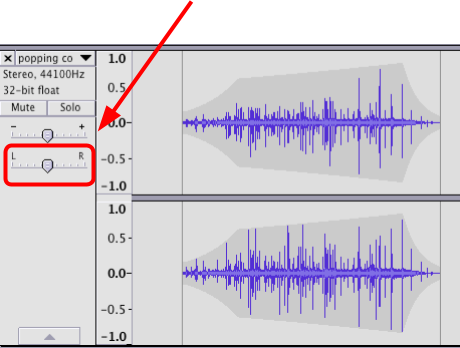 Then you could have some of the sounds more in the left and some more in the right and some in the middle, if you want!
Some hidden tricks in Audacity that I learned about
When you use the zoom (looks like a magnifying glass) to zoom in on the tracks, it's not clear how to zoom back again. Note when you zoom in there's a "+" sign in the magnifying glass icon on the cursor. Use shift-click and you'll get a "-" sign on the magnifying glass, which means you're zooming out again.
Similarly, if you click on the numbers right to the left of the tracks, that go from 0 to 1 at the top, then 0 to -1 at the bottom, you'll zoom into the waveform vertically. I found this out by accident, and then didn't know how to get it to zoom back out again. Shift-click gets you the "-" on the magnifying glass, and you can zoom back out. If you end up zooming upwards or downwards so the middle of the waveform gets moved up or down, just click on the "0" and it should centre again.
How to get help
1. Audacity manuals and wikis:
The manual for the latest version of Audacity is available here: http://manual.audacityteam.org/o/index.html#reference
There is also a great wiki for Audacity, here (note also the "tutorials" and "tips" sections on the left menu): http://wiki.audacityteam.org/wiki/Audacity_Wiki_Home_Page
2. online video tutorials on YouTube and Vimeo
Nice intro to basic recording and editing in Audacity: https://vimeo.com/34960247
A good introduction to recording voice with Audacity, including how to remove ambient noise: https://www.youtube.com/watch?v=4BmEh7ABQ7g
A good three-part series on recording audio with Audacity and dealing with some of the problems that can arise with your recording, as well as how to fade in and out, and more:
Part 1: https://www.youtube.com/watch?v=N7BuceavV-Y
Part 2: https://www.youtube.com/watch?v=S8f6yvgUjds
Part 3: https://www.youtube.com/watch?v=S8f6yvgUjds
Here's a page on creating a voice and music podcast with Audacity: http://wiki.audacityteam.org/wiki/Creating_a_simple_voice_and_music_Podcast_with_Audacity
3. ds106 community
Even if you haven't taken or are not taking ds106, people in the community are great and will help you if you have a question! Of course, you will likely get drawn into this fabulous community and start making art with them yourself (and then you can help others, too!).
Twitter: #ds106
Google+: https://plus.google.com/communities/110252845880668147936